OEM ODM KEOU adjustable LED Light Panel Factory
KEOU adjustable led panel light Factory & Frameless Design
KEOU LED LIGHTING is a National High-Tech Enterprise Specializing in R&D, Production and Sales of LED LIGHTING.
With strong R&D technology and production strength, we follow ISO/9001:2015 quality management system and ISO/14001:2015 environmental management system, and strive to create high quality and low quality LED products,for example, Indoor lighting(Led panel light, led panel light(Frameless Design), led bulb light,ect), Outdoor lighting(Led solar street light and led solar floor light...so on).
With excellent quality and service, the products are exported to Europe, South America, Middle East, Brazil, Venezuela, Turkey, Saudi Arabia, Iraq, Africa and other countries and regions.
R&D Team: 4 Senior Electronics Engineer with more than 10 years of R&D experience;
1 Senior Optical Engineer with more than 6 years of R&D experience;
2 Senior Structural Engineer with more than 5 years of development experience;
1 Graphic Designer with more than 5 years of Graphic Design experience;
Senior Electronics Engineer;Graphic Designer; Senior Structural Engineer; Senior Electronics Engineer; Senior Optical Engineer;Senior Electronics Engineer
Sales Team:
Pre-Sales: The professional team,which has served 116 countries with regions and more than 1882 customers, provides you with the most intimate consultation service;
In-Sales: Actively interact with customers on order progress at least once every 3 days;
After-Sales: Regularly follow up on terminal quality feedback with Customer sales,and Give sales advice and other support.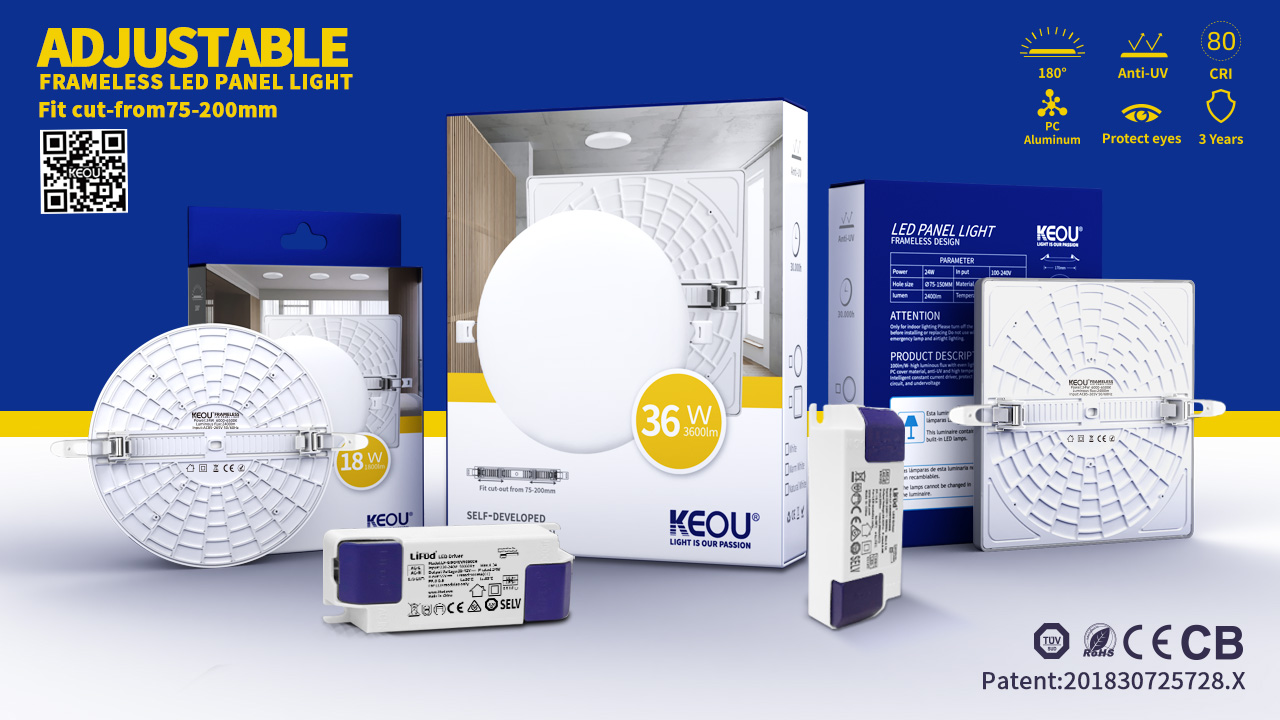 Our KEOU self-developed frameless design Adjustable led panel light, round and square, support RGB, APP Control, Double color, Tricolor, Dimmable and with lifud driver, you can choose as you like.
Dimmable adjustable frameless led panel light can fit cut 75-200mm. If you want to know more information, please contact us Right NOW!!!
If you are interested in our  LED PANEL LIGHT, please feel free to let us know.  Waiting for your good news, my friend!
For more information, please pay attention to our company's news!
KEOU LED Light Panel Factory
Guangzhou Keou Lighting Co., Ltd.
E-mail: [email protected]
TEL: 0086-020-8645 9962
FAX: 0086-020-86459869
WEB.: www.keou.cc
ADD: 4th Floor, Building D, Zhouhang Creative Park, Xiangxi Dadao Road, Xiamao Village, Baiyun Lake Town, Baiyun District, Guangzhou, China